Royal Gorge Half-Day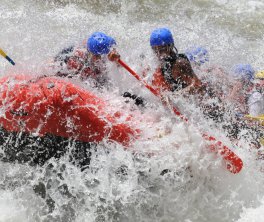 Activity Description
This trip takes you through continuous whitewater and thundering rapids, including Sunshine Falls, Sledgehammer, Wall Slammer and many more. This is one of the most exhilarating half day trips offered anywhere. The river winds beneath the Royal Gorge bridge provide spectacular scenery and an action-packed ride you won't forget!
FAQ for the Royal Gorge Half Day
Can I bring my child on this trip?
Recommended minimum age is 16. The minimum age will vary with conditions. We will adjust the ages downward to 14 years old with lower flow rates.
How Difficult is this Trip?
Class Type IV-V
When and where do we meet?
The 10:00 a.m. trip meets at 9:30 a.m. at our Royal Gorge office. The 1:30 p.m. trip meets at 1:00 p.m. at our Royal Gorge office. Once you have arrived at the office that your trip departs from, Performance Tours will provide all shuttles. We have ample parking at all of our offices.
Location - Royal Gorge, Arkansas River